3. Производство
Production
Agricultural Joint Stock Company "Belorechenskoe" has been a reliable Russian producer of food staples for more than 45 years!
The overall share of gross output in the total volume of agricultural enterprises in the region is 30 percent. Our company produces 87 percent of the consumer food basket assortment.
We specialize on production of chicken eggs and their processing. The number of laying hens totals 1 840 thousand. Due to constant work on improvement of genetic potential of hens and mastering of the newest technologies in keeping and growing of chickens, we have achieved significant results - today the company receives up to 358 eggs per year from one laying hen. Gross egg production in 2022 was 653 million eggs, and chicken meat totaled 2 500 tons.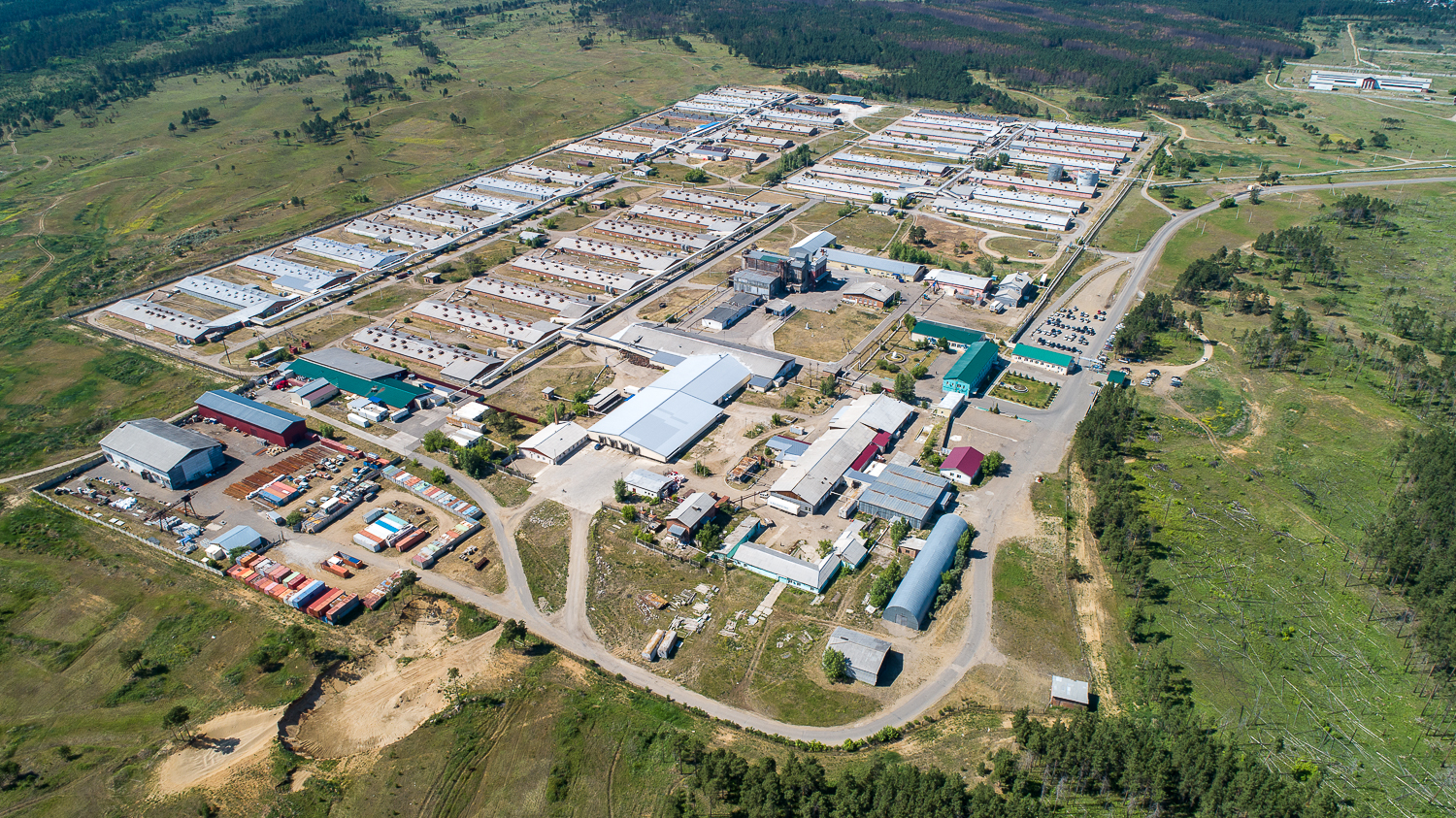 Livestock breeding is our very intensively developing branch. In recent years, the number of cattle has increased by more than 12 thousand heads. Annually we produce up to 54 thousand tons of milk and 2 000 tons of meat (as of 2022). Every third cup of milk that comes to the table of Irkutsk citizens is produced at Agricultural JSC "Belorechenskoe" farms.
Highly qualified specialists of the meat processing shop work according to a special technology and produce up to 70 types of different sausages, 11 types of delicacies, 55 types of ready-to-cook products. The production volumes during 2012 alone increased from 250 to 320 tons of meat products per month. Now the shop produces 4 thousand tons of meat products.
Agricultural JSC "Belorechenskoe" produces a wide range of bread and baked goods - bread, muffins, loafs, cakes and other flour confectionery products, using its own raw materials.
The enterprise has successfully mastered production and storage of potatoes, beetroot, carrots, onions, cabbage using a Dutch technology. This technology has significantly increased yields and reduced storage losses. Today Belorechenskoe produces more than 29 thousand tons of vegetables and potatoes.
The Basis of Production
Agricultural JSC "Belorechenskoe" specializes on producing eggs and various products of their processing. For production of quality eggs, we have chosen highly productive hens with high genetic potential of Dutch cross "Dekalb White".
Chicken eggs by Agricultural JSC "Belorechenskoe" differ in that during the whole cycle of production they are under strict supervision of specialists:
- Our poultry are fed exclusively with balanced feed of our own production;
- egg sorting is carried out with the MOBA XF 330 machine, which tests the eggs for cracks on the shell and sorts out the damaged ones.
It Starts With the Field...
Crop areas of the enterprise are located in three districts (Usolsky, Cheremkhovsky and Alarsky) and make 65 thousand hectares, including 33 thousand hectares of grain crops.
The main crop of the grain area is wheat. Good harvests of elite varieties became the basis of the bread line of the enterprise. In our own bakery we make real bread, which absorbed the traditions of the Siberian land.
Construction of our own a feed mill gives the enterprise an opportunity to have a powerful fodder base and complete independence from weather and economic fluctuations of the fodder market. The facility holds more than 100 thousand tons of grain.
A powerful modern motor pool of agricultural machinery allows to conduct sowing and harvesting works right on time and get maximum yields.
The company develops and improves the cultivation of vegetables and potatoes based on the long experience of Dutch farmers. The nursery tray technology of cabbage cultivation has been introduced into production. The seedling survival rate is one hundred per cent.
The skill to conduct the business rationally and to invest the money wisely has formed the same careful attitude to the farmland and, most importantly, to the people living on this land. The land plots transferred more than ten years ago from decayed collective farms in an extremely neglected state have now blossomed and became our bread and fodder baskets and vegetable plantations.
Today Agricultural JSC "Belorechenskoe" gives employment and income to more than three thousand peasant families working on this land. They live in 22 intensively developing settlements. A dairy farm has been built or reconstructed in each settlement.
The enterprise pays great attention to one of the most important problems of the village – youth homecoming to their native land. The Department of On-the-Job Training was established at the company's base. Every year the specialists of our company together with professors and students of the Agricultural Academy conduct experiments on cultivation and study of various new varieties of grain, fodder and vegetable crops; experiments on introduction of the latest technologies in zootechnics and veterinary medicine.
Development of Dairy and Meat Cattle Breeding - Innovations in the Cow Kingdom
For more than 20 years Agricultural JSC "Belorechenskoe" has been in dairy cattle breeding business.
In 2005 the enterprise was granted the status of a breeding plant.
Producing - processing - selling – this is the technological chain of dairy business at Belorechenskoe. The herd grows with every year and the volumes of processing and output increase. In 2022 milk production reached the milestone of 160 tons per day!
Modern milking technology allows to preserve the nutritional properties of milk and use to manufacture high-quality products which has a sustained market demand.
The motto of the enterprise is unchanged: 'Organic, Fresh and Healthy Food'.
To stay competitive, the enterprise has purchased new Italian equipment for processing natural milk and started supplying a new product to the markets of the Irkutsk region - fresh pasteurised milk in convenient pur-pak packaging with a lid and an extended shelf life.
"Belorechenskoe" started intensive development of a new sector - meat livestock breeding. The enterprise purchased breeding stock of heifers and steers of Kalmyk meat breed for production of marbled beef.
Agricultural JSC "Belorechenskoe" is constantly improving its dairy herd by purchasing high-yielding heifers from the European part of the country. In 2022 the annual milk yield reached more than 8,000 litres of milk per year per one forage-fed cow, some cows give 10-12 thousand litres of milk per year.
The enterprise is able to sell up to 600 breeding high-yielding heifers on a permanent basis.
Confidence in Quality, Taste and Purity
The company has a well-developed retail store chain.
On the territory of the Siberian Federal District and the Far Eastern Federal District, there are 16 Worker Supply Departments, 11 distribution centers and 497 branded shops of Agricultural JSC "Belorechenskoe".
Beauty of Labour and Harmony of Life
Agricultural JSC "Belorechenskoe" is often visited by different guests, delegations and colleagues for exchange of experience. The enterprise constantly takes part in various exhibitions and fairs that take place in Irkutsk and Irkutsk region, as well as in such large cities as Moscow, Omsk, Novosibirsk, and abroad.
In March 2012, representatives of Agricultural JSC "Belorechenskoe" as part of the delegation of the Irkutsk region took part in the XX international universal exhibition "Gateway to Asia", as well as in the business seminar "Russia - Mongolia". The Mongolian company NVC and Agricultural JSC "Belorechenskoe" have been reliable partners for several years.
Belorechensky people believe that public-private co-operation is of great importance in the social and economic development of both enterprises and the region as a whole.
Good Deeds – Construction of a Temple
On 29 June 2002, a foundation stone was laid for the future temple in honour of the Orthodox feast of the Ascension of the Lord in the village of Sosnovka, Usolsky District, Irkutsk Region.
The initiative belonged to General Director Gavriil S. Frantenko. The initiative was approved by the Supervisory Boards and employees of Agricultural JSC "Belorechenskoe". They decided to build the Temple all together, so that along with high production performance to bring spirituality to the world.
Charity
Agricultural JSC "Belorechenskoe" takes care of the children in difficult life situations.
The enterprise provides financial support to the orphanage with 85 children in Novomaltinsk settlement:
- organisation of a summer leisure and labour camp for children;
- taking the children to harvesting;
- assistance in getting the children ready for a new school season;
- organising a music band and equipping it;
- gifts for the New Year.
There are lot of good deeds on the record of Belorechensky's residents!